Horse Racing History
The Swinton Racecourse
William Clift – Jockey and Trainer
William Clift (1762 – 1840), born on the Wentworth Estate he became the first jockey to win all 5 classics.  On retiring from racing he became Earl Fitzwilliam's trainer at Swinton with his son Thomas.  One item of valuable interest, which was among the ladies papers was a Swinton Chapelry Baptisms list of 1828, showing Thomas Clift and wife Elizabeth having their son Henry White Clift baptized.  The Trade or Profession is stated as Trainer of Race Horses, and more.
Swinton Racecourse Horse
A Piece of Cricket History
Having my camera, I came across this large concrete grass roller, and not knowing the roller's history came up with my assumption.  I know St. Margaret's had a junior football team (Mexborough 14 to 16 league and probably 16 to 18 league, late 1940s early 1950s), but unsure of the cricket side of things.  Now we know that at first Swinton's cricket team played on a field off Golden Smithies Lane adjacent to the racecourse, and I was wondering if the roller could have come from there.  It would not have been a big job to roll it the short distance to the vicarage field rather than to the Welfare ground.
Ron James
Golfing History
Percy Sansom
Boxing History
 Alfred Liversidge (1836-1921) England's Fastest Man and Bare Knuckle Boxing Trainer
Alfred Liversidge
A plaque mounted on 'The Station' pub in Swinton commemorates Alfred Liversidge, a local sporting hero.  Alfred was born in 1836 and he spent his childhood in the village of Swinton.  From an early age, his sporting prowess emerged.  He distinguished himself as an athlete, being uncatchable at running and achieving the almost impossible at jumping.  He was only one of a tiny number of people to be capable of leaping the canal lock at Swinton Bridge from one side to the other.
During his adult life, especially during the 1850's, Alfred was recognised as England's fastest man as a runner.  He entered and won the U.K. Half-Mile Championship, the Quarter-Mile Sheffield Handicap (1 min. 5 secs.) the Half-Mile Royal Handicap at Leeds and obviously developing his canal jumping talents, the Manchester Long Jump Championship.
Towards the end of Alfred's running career in 1860, Alfred found himself in the city of Norwich.  His sporting success ensured that his fame was known by the people of that city.  He was introduced to a young publican who had just taken the British Middleweight Boxing Title – Jem Mace.  Alfred became Mace's trainer and his boxing career took off from there.
The plaque reflects both sides of Alfred's sporting successes in the arena of boxing and athletics.  We  chose to site his plaque on the Station Hotel as, for a time; Alfred lived on nearby Charles Street.  The pub is a building that Alfred would recognise and, in all probability, would have used as a customer.  We funded the plaque to Alfred by, appropriately enough, staging a Boxing Show in Swinton at our local secondary school.
Unlike some of today's boxing trainers, managers and promoters, Alfred never made huge amounts of money from his sporting activities.  When he returned to Swinton, he had to return to a life of normality which meant obtaining a job to provide for himself and his family.  Following in his father's footsteps Alfred obtained employment in the pottery industry at Holmes Pottery in Rotherham (Liversidge senior worked at the Rockingham Pottery).  Alfred worked to well into his 70's and enjoyed good health and fitness.  He died on the 21st January, 1921 and his funeral set off from his final home, 58 Middleton Villas, Swinton.  He was interred in Swinton churchyard, where his gravestone can be seen quite clearly today.  The plaque we have provided, however, will be a more visible and public memorial to Swinton's Sporting Hero.
For a more detailed history of Alfred's life and times please read the book produced by Giles Brearley available from this website.
1921 funeral notice
A Further Account
ALFRED LIVERSIDGE, "A LOOK BACK."
Extract from Mexborough & Swinton Times 1911.
In the cosy little cottage, No. 58, Middleton's Villas, Swinton, lives Mr. Alfred Liversidge, who, half a century ago, was the trainer of Jem Mace, the noted pugilist, and the holder of the half mile championship of England.
Mr. Liversidge's birth certificate records that he was 75 years of age last October, but he looks 25 years younger, and there are many men of forty who would give a deal to be as supple or as lively as he is.  He may not be able to run quite so fast as he could half a century ago, but his heart is still young, and I fully believe (writes a "Times" reporter who chatted with the old gentleman the other evening) that if occasion demanded he could still do damage with those bare knuckles of his.  In Alfred Liversidge's boxing days gloves were not the fashion.
Mr. Liversidge is a Swinton lad, and spent the first 21 years of his life in the Don Valley, where he distinguished himself by his prowess as an athlete, chiefly at running and jumping.  He left Swinton when he came of age, and spent eleven years travelling through the country, touching all the big centres from Newcastle to London.  It was during this period, that he met Jem Mace, who was then quite an unknown young man.  Mr. Liversidge was his trainer for five years, and it was under his guidance that the future champion first came into the limelight.
Today, although in his 76th year, Mr. Liversidge is not too old to work, and every morning the Midland train takes him to the Holmes Pottery at Rotherham, where he works as a potter.  He is a wiry little man of the type that champions are made of, and one of his most treasured possessions is a faded photo of Jem Mace, taken while the famous pugilist was in his prime.  Across the photo is written; "From Jem Mace to Alf. Liversidge.  My old pal."
After Liversidge had been five years with Mace, he decided to return to Swinton and settle down.  Mace begged of him to accompany him on tour, but the young Swinton man declined the offer of £3 a week and expenses, returned to Swinton, and got married.  That was 44 years ago, but Mr. Liversidge has never regretted taking that step.  "I am glad I didn't go" he told the reporter "I shouldn't be living today if I had".
Of his friend, Jem Mace – they kept up a correspondence till Mace's death, last December, Mr. Liversidge speaks in the highest terms, "He was a man I thought a lot about; he was the cleverest man that ever put his hands up, and he was one of the most civil and nicest men in company – he was a thorough gentleman".
It is twenty years since last I saw him, that was at York.  Of course, he sent for me many a time, but I put off going to see him.  When "Iron" Hague fought Gunner Moir, he invited me to London, and I was sorry I didn't go.  I sent him my respects through Mr. A. Swift, of the Don Hotel.  He used to talk of me to Mr. J. Frank Bradley, and, bless you he told him that I was the best trainer he ever had.  Mr. Swift heard him say so".
Mr. Liversidge's connection with Jem Mace dates back to 55 years ago, when the pair met at Norwich, where Mace kept a public house in Swan Lane.  Mr. Liversidge was an athlete of some prowess at the time, and the young runner and the young pugilist got on very well together.  The Swinton lad eventually became Mace's trainer, and they trained at Yarmouth and Norwich.  Mr. Liversidge trained Mace for his contest with Brittle.  Mace was beaten at the first meeting, but he won at the second time of asking.  Mr. Liversidge was trainer for Mike Madden, which never came off, and the consequence was that Mace came in for a good deal of harsh criticism.  Mr.Liversidge indignantly scouts the idea that Mace was afraid of Madden. "Jem was afraid of none of them" he said.
And it would have gone hard with Madden had they met.  You know, Madden killed Jack Jones just before Mace was to have met him.  Then, when Mace didn't fight, some people made out that Jones ghost appeared to him and to me, and frightened us from going to the ring.  I know better than that.  Jem was no coward, but he made mistakes, like all of us".
"What do you think about present day boxing, Mr.Liversidge?" asked the reporter. "Well, I think very little about it" replied the old man. "There are no Mace's living now, it isn't scientific like it was.  I don't care about their style.  Jim Driscoll's is the best style we have now, he is a fine, scientific boxer".
Asked which he preferred, bare knuckles or gloves, the old man smiled.  "Bless your life, fighting nowadays is like going a pleasuring towards what it was in the old days.  Now, after a fight, if you go into the room when the men have had a wash down, you find everyone smoking cigarettes, and you wonder who it was that had been fighting.  In my day the men who had been at it with bare knuckles had nowhere left to put the cigarette".
Mr.Liversidge holds that the Queensberry rules are not adhered to now, and he does not believe in the kidney punch. "I don't believe in holding a man, it's not sparring.  Mace wouldn't have the kidney punch, and I think myself it will be done away with altogether.  It ought to be.  Why, a referee can't see whether a man is using the back of his hand or not.  What our young boxers want to do is practice more cross-countering.  It is the finest thing out, Mace believed in it".
Mr. Liversidge told our man that he had been to the boxing bout at Mexborough on Monday week, by special invitation of Mr. Frank Bradley, the referee from London.  He saw some promising material there.  "But they must keep off the Welsh's and Driscoll's," said Mr. Liversidge.
Asked what he thought of "Iron" Hague, Alf replied that he was alright among his own class.  "But he mustn't get among the darkies"  he added, with a significant smile.  "He should be able for any white man; but I wouldn't, if I were he, go for Sam Langford, Jack Johnson, Gwinette, or McVea.  I don't think there's a white man could come near any of these".
Mr. Liversidge agreed that it would be a big fight if Langford and Johnson got matched.  "You must remember", he said, "that Langford is the younger man by five years; Johnson is 34, and you don't get better as a boxer after that age.  But Langford is a wonderful man, and he will improve a little more.  He has come on great since he tackled "Iron" Hague".
One could fill a book recounting particulars of the men-all all of them at the top of their class-who have passed through Alf's hands.  He trained Tom Kelly, of Bradford, who beat Jack Rooke, and later licked Lomas.  Kelly afterwards went to America, and fought a draw with Jake Kilrain.
Mr. Liversidge, 52 years of age, was the champion half-mile runner.  He challenged all England, but no man came forward, although he was willing to concede seven yards in 880.  Bill Lang ("Crow-catcher") accepted Mr. Liversidge's offer of ten yards in the half mile, he to allow Mr. Liversidge five yards in a mile race, to be decided later; but the races never came off, and Bill forfeited two fivers.  Jimmy Hancock, Tom Horspool, and Jack Nuttled also took up his challenge, but forfeited their fivers rather than tackle the young man from Swinton.
Mr. Liversidge won the half mile handicap at Sheffield, doing the distance with a little start in nine seconds under two minutes.  Among a few of the other races he has won may be mentioned the half mile handicap at Royal Park, Leeds, from scratch; one mile, Victoria Grounds, Birmingham, scratch; half mile handicap at Greenhill Gardens, Manchester.  He won a jumping handicap during the same week.
Among the runners he has trained may be mentioned Dick Buttery, who did the quarter mile in forty eight and a quarter seconds, the quickest on record.  Mr. Liversidge had Buttery from the time he was a novice, and he trained Charley Moore, of Durham, when he won the belt for the mile championship.  Mr. Liversidge has a photograph of himself taken 48 years ago, after he had won a big race.
An account of his exploits would be incomplete if mention were not made of his race with a horse in the streets of Ipswich.  While he was staying at Norwich he was matched by Jem Mace, Bob Bunn, and Bob Anderson to run fifty yards with a horse, the property of an army officer, for £20 a side.  A condition of the race was that the runner should be a Norfolk man; but Mace and other friends persuaded the Swinton lad to go ahead.  And he did.  He won the race, and got the money; but he confesses it was a tight affair.  The contest over, the party adjourned to a local tavern, where both sides had a royal half hour.  Everyone wanted to shake with the young "Norfolk" athlete, and people wondered why he had so little to say.  Of course, the shrewd young man knew that his broad Yorkshire would give the show away, so kept a stiff upper lip.
Herbert and Harry Crossley – Boxing Champions
Herbert was Novice Heavyweight British Champion.  He was born in 1901 and went into boxing training as a youngster.  His fight record was excellent.  He went to the U.S after being spotted by a US promoter and was put up against their best.  He fought the legendary Gene Tunney.  He died following a prolonged fight in new York on the 20th November 1921.  His body was shipped back to Swinton and he is interred in the churchyard.
Herbert Crossley
Herbert Crossleys Funeral
Harry Crossley
Harry was Cruiser weight British Champion.  He was born in 1904.  Like his brother Herbert he started boxing young.  He took the title in 1929 and retained it until 1934.  He had many defences and finally retired in 1934.  He only lost 18 fights in an active 10 year professional career.  He died in 1948.
Rugby History
Johnathan Pendlebury – Professional Rugby Player
Johnathan Pendlebury was born 15 January 1983, he attended the local Swinton Comprehensive.  He latterly played as a 'Lock, second row'.  He had a very successful start to his rugby career and represented his country at U18's, U19's and at the U21 level.  He was selected for the U21 England squad for the FIRA World Cup.  He then joined the Bath Academy before returning home to play for the Rotherham Titans in June 2003.  He transferred to Gloucester for the 2004/05 Zurich Premiership side.  His first team debut was against Toulon in the 2005-06 European Challenge Cup.  He made 6 appearances in total in the competition and starting in the final against London Irish at the Stoop which Gloucester won 36-34.  He played with them until June 2008 .
He then joined the Leeds Carnegie Club where he remained until
From 2008 I was a proud member of the Leeds Carnegie squad and had the honour of captaining the team on many occasions.  In July 2012 I had to make the hard decision to retire from playing the game due to the result of repeated concussions.  In addition to my involvement representing the team as a senior player and leader I had many other roles which included helping to plan and implement game tactics and analysis.  Further responsibilities included, community work with our rugby foundation, marketing and PR with sponsors and supporters and working with the media through TV, Radio and Print. Achievements: National Division One Champions 2008 – 2009 Runner up National Cup 2008 – 2009″
Between June 2008 until June 2012 he became the players representative at the RPA for Leeds Carnegie.  The R.P.A is the representative body and collective voice of professional rugby players in England.
He is now involved as a Coach and in community work.  He is presently Coach for the Yorkshire Senior County Team.
Johnathan also gained a B.sc degree in Sports, fitness and coaching along the way.
Johnathen Pendlebury
Fishing History
Ernie Wilde Champion Angler
Football History
Samuel Frederick Tilson – Footballer
Manchester City, F.A cup winner, League winner, England Player.
Samuel Tilson was born in Swinton on the 19th April 1904.  He began as an amateur playing football for Barnsley Congregationals.  He was spotted by a talent scout and recruited to play for Barnsley F.C.  His team mate was Eric Brooke.  There style was to bounce off each other and were a formidable pair.  In 1928 they were both transferred to Manchester City for a combined fee of £6,000.  Brook and Tilson joined a strong team that included two England capped players ie Tommy Johnson and Frank Roberts.
In his first season Samuel's contribution helped promote Manchester City into the first division.  In total he made some 264 league appearances and scored a 110 goals.  The 1932–1933 season saw Tilson as leading goalscorer with 23 goals tucked away, with 6 being in the FA Cup.
Samuel made his debut for England in May 1934 in a match against Hungary.  Unfortunatly they were defeated 2–1 but Samuel however scored England's only goal.  He was selected four times for his country and ratcheted up an impressive scored six goals.  His second International was a 2–1 defeat to against Czechoslovakia, he again scored England's only goal.
He remained with Manchester city until the end of the 1936/37 season after 264 appearances, whereafter he played for Northampton Town and finally York City.
George Smith Waterfield – Footballer
George was born at Swinton on the 2nd June 1901.  He became a professional footballer as a defender pre-dominantly with Burnley Football Club.  He played with them from 1923/24 season until 1934/35 making 371 appearances, scoring 5 league goals (bear in mind he was a defender) and then Crystal Palace.
He was capped for England once on the 12th February 1927 at the age of 25 in a match against Wales.  He died in 1988.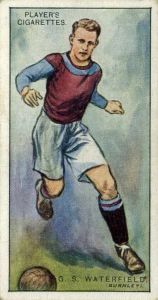 Walter Ardron – Footballer
Wally was born in Swinton at the end of the first world war on the 19th September 1918.  He left school at the age of 14 and went to work at Kilnhurst Colliery.  He then went into manufacturing and then as an engine fireman for the L.N.E.R in 1936.  He showed early promise as a footballer prefering to play centre forward and became a part time pro for Rotherham United in 1938.  Unfortunatly his work on the railway meant he could only attend one game in three and as he would not accept full time terms was released.  He then joined Denaby United but Rotherham needed him and paid the club £100 in November 1941 to take him back.  His work on the rail continued.  Part of the Denaby deal was that he played for them on the seasons cup fixtures.  One the Easter Saturday he took a 2.15am train to cleethorpes returning by 11am.  He then played for Rotherham against Sheffield United then at 6.15pm kicked off for Denaby in the Montagu cup final.  In 1943/44 he set a club record by scoring 43 goals in a season.  He was selected for the England Squad but didn't take it up as it interfered with his schedule.
He joined Nottingham Forrest in June 1949 for a whopping £10,000.  Aged 32 that was a record fee for the club.  He was made to cease his Railway employment.  Forrest had been regulated but he ensured their promotion again within two seasons.  He scored a record 36 goals for them in the 1950 51 season.  Wally won the accolade of being the first player to score 200 post war goals.  He played for Forrest until half way through the 1955/56 season.  He then returned to Rotherham and got a job in a steel Foundry.  He commented the wage he got was higher than he ever got a week in football.
He was involved with Doncaster Rovers and then local football, including Swinton's youth team for many years thereafter.  He died in 1978.
Ardron takes pride of place at the front.